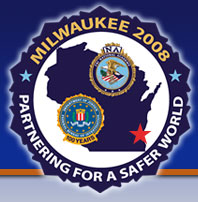 Hotels
The host hotels are full, what are my options?
Please verify with the Hyatt and Hilton first, as rooms do become available with cancellations. If both are full, please contact the Doubletree Hotel (they're located across the street from the Hilton).
Update - June 17, 2008
The Hyatt has a limited number of rooms now available for the conference. Please contact the Hyatt and Hilton to see if rooms are available.
Doubletree Hotel Milwaukee City Center
611 West Wisconsin Avenue, Milwaukee, Wisconsin, United States 53203
Tel: 1-414-273-2950 Fax: 1-414-273-7662
A special FBINAA conference room rate has been established at a rate of $179 single/double, per room, per night, plus tax.
You may make a reservation on line by visiting the Website Link. Select the dates of your stay. On the next page please look for the "Special Accounts (Optional)" area towards the bottom of the page. In the group code box use: " FBI" to receive the special rate.
---
A special conference rate has been arranged for our members. Contact your choice hotel directly for all reservations and ask for the FBINAA rate of $159 single/double, per room, per night, plus tax. Reservations must be made before June 25, 2008. Both hotels have ramp parking ($10-$15 per/day) and are connected by walkway to the conference center. Please refer to the hotel's website for specific amenity information.
Our Host Hotel is Full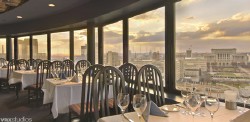 Hyatt Regency - Milwaukee
Come experience a new standard of Milwaukee hotels at Hyatt Regency Milwaukee. In the heart of downtown Milwaukee, our hotel is connected to the Midwest Airlines Center convention facility, Federal Plaza and Grand Avenue Mall. Two blocks from the Bradley Center, Performing Arts Center and Entertainment District and one block from the scenic Riverwalk.
As of May 8th our Host Hotel is Full
Hyatt Regency Milwaukee
333 West Kilbourn Ave.
Milwaukee, WI 53203
Phone (414) 276-1234
Fax (414) 276-6338
---
Hilton -
Milwaukee City Center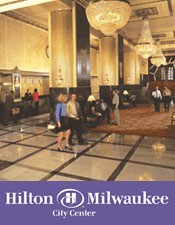 Our Host Hotel is Full

Discover an American Classic.
Experience the graceful style and superb service of the Hilton Milwaukee City Center. Our recent multi-million dollar renovation has restored the hotel to its original 1920s magnificence, with elegant chandeliers, rich woodwork accents, marble floors and refined furnishings. 730 deluxe rooms offer the latest amenities and security features without sacrificing any of the property's classic elegance.
The Hilton Milwaukee City Center is attached to the Midwest Airlines Center convention facility allowing easy walking access to the convention.
The Hilton-Milwaukee City Center has a water park. See their website for further details at http://www.hiltonmilwaukee.com. Be sure to ask for the special FBINAA Paradise Landing Water Park rate of $10.00 / person / day! It is open on Friday, July 25th from 3:00pm – 10:00pm; Saturday, July 26th from 9:00am – 10:00pm; and Sunday, July 27th from 9:00am – 6:00pm. It will be closed on July 28th – 31st. Children 16 and under must be accompanied by an adult.
Hilton Milwaukee Center
515 West Wisconsin Ave.
Milwaukee, WI 53203
Phone (414) 271-7250
Fax (414) 271-1039
For On-Line Registration and Conference Hotel Pricing Information:
http://www.hilton.com/en/hi/groups/personalized/MKEMHHF-FBINT-20080725/index.jhtml
---
Metro Milwaukee's only RV Park:
http://www.wsfp.state.wi.us/home/wsfp/PARK_FACITIES/rv_park.htm
---