Harley Ride - Saturday, July 26, 2008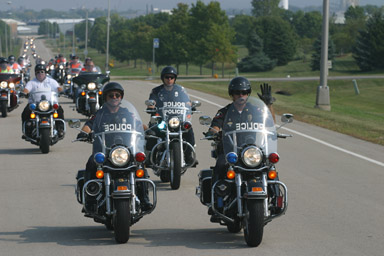 Bring your ride (all makes and models are welcome) and join in a memorable group ride through the scenic Kettle Moraine area. The tour begins at 10 a.m. from The House of Harley in Milwaukee, stops at the Open Road Harley- Davidson in Fond du Lac where a picnic lunch will be served. The ride will then proceed to Oconomowoc to Wisconsin Harley-Davidson and then concludes at the Ice-Breaker event at the Harley-Davidson Museum back in Milwaukee. Secured cycle and/or trailer parking will be provided during the conference. Registrants will receive an official tour hat. Also before the ride will be a pancake breakfast available from Famous Dave's and a $2 bottomless coffee service available from Berres Brothers
Rental Information:
The House of Harley at www.houseofharley.com
Hal's Harley Davidson in New Berlin, WI,
www.halsHD.com
Hal's is holding approximately 20 rentals for our members until May 1st, 2008. Internet reservations will not be available due to the special pricing and rental terms extended to our conference guests. All reservations should be made by contacting Hal's rental manager, John E. "Bud" Curtis II. Bud can be contacted at 262-814-8685 (direct line), or via e-mail at [email protected]. The dealership website is www.halsHD.com. Bud recommends that riders bring their own helmets, riding, and rain gear. These items can be shipped to/stored at the dealership until the rental bikes are picked up. The dealership address is 1925 South Moorland Rd. in New Berlin, WI., 53151-2321.Since the paperwork/rental procedure does take a fair amount of time, Bud recommends that reservations be made early so that he is able to "pre-enter" information for the rental contracts.
Transportation to/from both rental locations will be provided. Please check our conference website regularly for updates to this event.
Questions?
Please contact Chief Tony Barthuly at (920) 322-3706 or [email protected]