Family Night - Monday, July 28, 2008

A NIGHT AT THE MUSEUM
Spend a fabulous night at the Milwaukee Public Museum . Milwaukee has a world class museum where history comes alive every night.
Conference attendees and their families will spend an evening strolling through this outstanding facility's unique artifacts. Exhibits include the Streets of Old Milwaukee , European Village, Costa Rican Rainforest, Exploring Life on Earth, Temples & Tombs, North American Indians, Wisconsin Woodlands and the Butterfly Garden. Attendees will also be able to watch an IMAX movie at the Museum!
While you are strolling through the Museum, you will dine at numerous food stations spread throughout the exhibits each featuring unique ethnic cuisine. All food, drinks and fun are included in your conference pass.
Location: Milwaukee Public Museum, 800 W. Wells Street (1 block west of the conference center).
Time: 6:00PM-9:30PM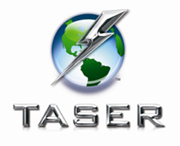 Sponsored by: TASER
Official Less Lethal Electro-Muscular Disruption (EMD) Device Provider of the FBINAA Inc.
Strategic Corporate Partner" of the FBINAA Inc.